Are some more equal than others?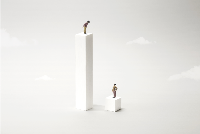 Recently, Aussie Broadband (and subsequently several other ISPs) made 250/25 Mbps and 'up to' 1000/50 Mbps retail plans available to a select group of premises on the NBN network, following the release of a 100/20 Mbps plan in late 2019. This followed a wholesale price review that was completed by NBN Co in September 2019.
The retail 250/25 Mbps and 'up to' 1000/50 Mbps plans (dubbed 'Home Superfast' and 'Home Ultrafast' respectively) are a breakthrough, in terms of price point / speed. They set a new, very welcome standard for broadband in Australia – if you can get it.
Unfortunately, these plans are only available to premises that fall within the Fibre to the Premises (FTTP) or Hybrid Fibre Coaxial (HFC) footprints.
According to the NBN 2020-2023 Corporate Plan report, approximately 1.8 million premises were connected to the NBN via the FTTP footprint, with an additional 2 million connected via HFC as of 2019.
If we accept the forecast for 2020, this equates to approximately 1.9 million premises for the FTTP footprint and 2.5 million for the HFC footprint, or 4.4 million premises in total that will have access to these plans.
Drilling down further, it has been reported that only 7% of the HFC footprint will have access to the 'Home Superfast' and 'Home 'Ultrafast' plans initially, expanding to 100% of the HFC footprint by June 2021. In other words, only 2 million premises will have access to these plans for the first twelve months.
Out of 11.46 million premises that are connected to the NBN, only 2 million or approximately 17% of premises have access to these plans for the first twelve months, rising to 4.4 million premises or approximately 38% by June 2021.
What do all these numbers equate to in reality?
Depending on where you live, you will have access (or not) to a varying quality of Internet connection. On the balance of probability, it is more likely than not that where you choose to live will not have access to a 'Home Superfast' and 'Home Ultrafast' Internet connection.
This is a direct result of policy changes put in place by the Federal Liberal government.
Rather than the proceed with the original vision for the NBN, which was to deliver FTTP to 93% of premises for a cost of $46 billion, we have instead been provided with a 'Multi Technology Mix', which utilises a range of access technologies that have varying degrees of capability to deliver Internet access speeds, at a cost of at least $51 billion.
We have spent at least $5 billion more to build an inferior network that will likely need remediation (at further cost). This has resulted in real detrimental impacts for all Australians, who now more than ever are reliant on a high-speed Internet connection as an essential utility – in much the same way as electricity or running water.
As Australians, we all need to take an active interest in technology matters in this country. The actions of our government have real tangible impacts on our lives. Even some small action can create positive change. Whether that be contacting your local MP or supporting advocacy groups (such as ITPA) to ensure that future technology projects and policies do not result in debacles like the current state of the NBN.